› Auctions
›

Open Championship of Canada Gift Pack .10¢ Golf Dime Two Rare Dimes with Stamps
Open Championship of Canada Gift Pack .10¢ Golf Dime Two Rare Dimes with Stamps
Item code: RA-5293
Shipping is available with this item.
Reserve Price 20.00
Bid History
Current Bid 0.00
Time Left
Auction started 14 May 2017 23:34:00 EST ends 30 Jul 2017 21:30:00 EST
Open Championship of Canada Gift Pack .10¢ Golf Dime Two Rare Dimes with Stamps
Open Championship of Canada Anniversary Pack Gift Set
Includes:
Rare 2 x 10¢ Uncirculated GOLF Dimes Struck by The Royal Canadian Mint (Book Value $20 each)
Rare 2 x 49¢ Open Championship Canada Post Uncirculated Stamps
Specially Designed Divot Tool with place and magnet holder for Dime
BONUS - 1 Green Felt Storage pouch for Divot repair tool
Commemorative Gift Set
In 2004, the Royal Canadian Mint produced a limited collector edition ten cent coin marking the 100th anniversary of the Canadian Open Golf Championship. At the same time, Canada Post issued two different unusual golf ball shaped postage stamps marking the same commemorative. Together, the Royal Canadian Mint and Canada Post issued this special anniversary pack featuring two of the commemorative dimes (one in a magnetic ball mark / divot repair tool) together with both commemorative stamps. Official issue price for the presentation was $19.95 each, although the current secondary retail market value of each dime alone is now about $20.
Item: RCM & Canada Post Golf Gift Set
Year: 2004
Manufacturer: Royal Canadian Mint
Condition: MINT in Original display case and factory sealed Blister Packed.
* Not suitable for children 3 years and under.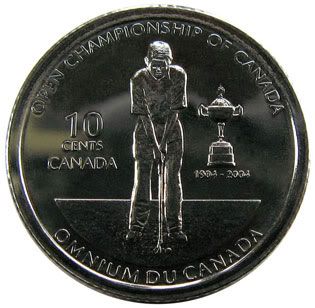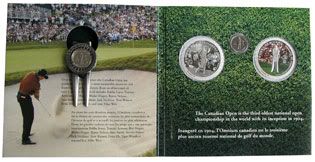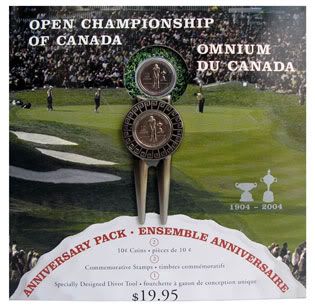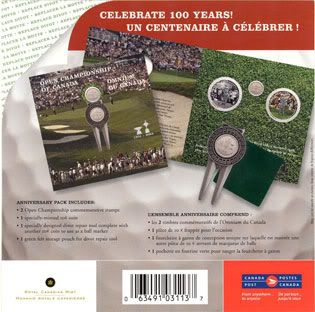 Login to Bid / Buy