› Auctions
›

2007-08 Vancouver Canucks NHL Royal Canadian Mint COIN Gift Set Colored Loonie
2007-08 Vancouver Canucks NHL Royal Canadian Mint COIN Gift Set Colored Loonie
Item code: RA-5176
Shipping is available with this item.
Reserve Price 25.00
Bid History
Current Bid 0.00
Time Left
Auction started 1 May 2017 2:16:00 EST ends 2 Jul 2017 21:31:00 EST
2007-08 Vancouver Canucks NHL Royal Canadian Mint COIN Gift Set Colored Loonie
2007-08 Vancouver Canucks Canadian Coin Currency Gift Set
Struck by The Royal Canadian Mint
This Gift Set struck by The Royal Canadian Mint pays tribute to the Vancouver Canucks. Originally issued to the Canadian public at $24.95. This beautiful set comes with one of every Canadian coin issued in the year 2008. As an added bonus The Royal Canadian Mint issued a Special Loonie coloured with a three ply nickel finish painted of the teams emblem. These were only inserted in these special gift sets and Loonie pucks. In addition this also includes the un-circulated very popular to coin collectors 50 ¢ piece.
Item: RCM NHL Gift Set
Team: Vancouver Canucks
Year: 2007-08
Manufacturer: Royal Canadian Mint
Condition: MINT in Original display case.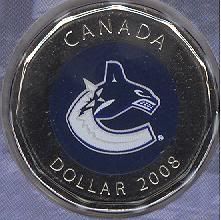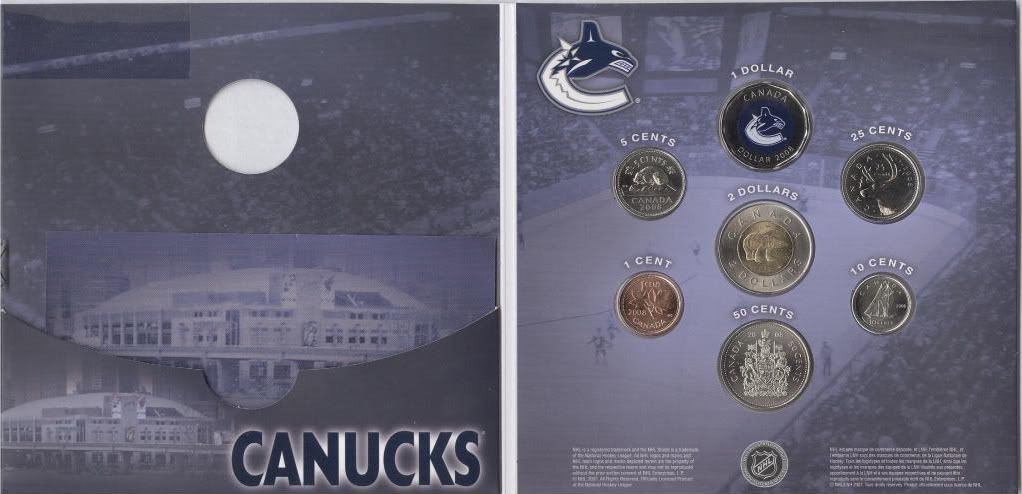 Login to Bid / Buy