› Auctions
›

2003 Canada Post Hockey NHL Coaster Set of 6 All Stars Bourque Bossy Savard
2003 Canada Post Hockey NHL Coaster Set of 6 All Stars Bourque Bossy Savard
Item code: RA-5300
Shipping is available with this item.
Starting Bid $9.00
Login to Bid / Buy
Bid History
Current Winning Bid $9.00
Time Left
Auction started 15 May 2017 0:06:00 EST ends 8 Oct 2017 21:49:00 EST
2003 Canada Post Hockey NHL Coaster Set of 6 All Stars Bourque Bossy Savard
2003 Canada Post Commemorative NHL Hockey Coaster Set
6 All Stars and also Hall of Famers
Commemorative Gift Set
In 2003, Canada Post produced Six different Commemorative NHL .48¢ Stamps to commemorate the NHL All Star game and All Stars past. As seen in the photo Canada Post made a souvenir Coaster Gift Set. This set of six high quality water resistant cork-backed drink coasters was created by Canada Post featuring one coaster for each players stamp image designs, comes in a collectible tin.
Players: Raymond Bourque, Frank Mahovlich, Mike Bossy, Serge Savard, Stan Mikita and Bill Durnan
Item: NHL All Star Game Coasters Gift Set of 6
Year: 2003
Manufacturer: Canada Post
Condition: MINT in Original display case and factory sealed Blister Packed.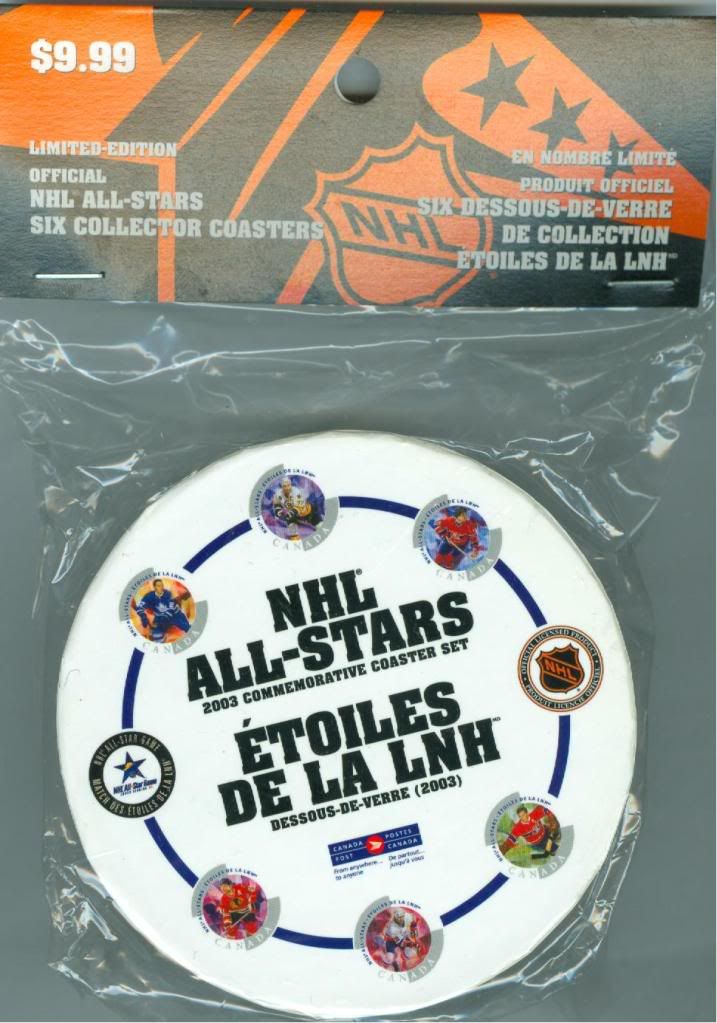 Login to Bid / Buy