› Auctions
›

2001 NHL Medallion Set of 6 COINS Royal Canadian Mint Sawchuk Hull Beliveau Apps
2001 NHL Medallion Set of 6 COINS Royal Canadian Mint Sawchuk Hull Beliveau Apps
Item code: RA-5196
Shipping is available with this item.
Starting Bid $25.00
Login to Bid / Buy
Bid History
Current Winning Bid $25.00
Time Left
Auction started 13 Jun 2017 12:23:00 EST ends 21 Dec 2017 22:51:00 EST
2001 NHL Medallion Set of 6 COINS Royal Canadian Mint Sawchuk Hull Beliveau Apps
2001 NHL Medallion Struck by the Royal Canadian Mint
Set of all 6
These Medallions struck by The Royal Canadian Mint pays tribute to 6 of the best All-Star legends of the NHL of all time. Although originally issued in a case with a matching postage stamp for $14.95 for each player. We seperated a bunch of them to be able to offer you them individually and in a complete set. Each Medallion will be received neatly stored in a protective capsule free of charge.
Item: RCM Medallion
Players: Bobby Hull, Eddie Shore, Syl Apps, Jean Beliveau, Denis Potvin and Terry Sawchuk
Year: 2001
Numbers: Not numbered 6 in the set
Manufacturer: Royal Canadian Mint
Condition: MINT in Plastic Capsule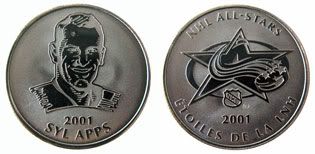 Login to Bid / Buy