› Auctions
›

2000 NHL Canada Post Special Edition Stamp Card Set 6 Orr Gretzky Howe Plante
2000 NHL Canada Post Special Edition Stamp Card Set 6 Orr Gretzky Howe Plante
Item code: RA-5415
Shipping is available with this item.
Starting Bid $11.00
Login to Bid / Buy
Bid History
Current Winning Bid $11.00
Time Left
Auction started 16 Jun 2017 18:24:00 EST ends 5 Nov 2017 21:29:00 EST
2000 NHL Canada Post Special Edition Stamp Card Set 6 Orr Gretzky Howe Plante
2000 Canada Post Stamp Card Series #1 Set of all 6
Players: Bobby Orr, Wayne Gretzky, Jacques Plante, Maurice "Rocket" Richard, Doug Harvey and Gordie Howe
Year: 2000
Manufacturer: Canada Post
Card Numbers: #1 to 6
Condition: Mint (Factory Sealed)
Special Features: These are some of the scarcest and most interesting hockey cards officially licensed by the NHL. In year 2000, Canada Post began a three year series of hockey cards celebrating 18 of the greatest all-star players in the history of the game. This first set contains six cards, each inset with a mint condition official Canadian postage stamp of the featured player. This set includes Wayne Gretzky, Maurice "Rocket" Richard, Bobby Orr, Gordie Howe, Doug Harvey and Jacques Plante. (6 mint condition 46¢ stamps - $2.76 postage, inset). Cards are all in perfect new condition still sealed in original packaging. An information page about each player is also included.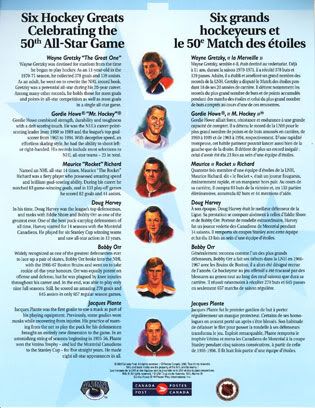 Login to Bid / Buy